It's been a long day.
I'm working on another composite portrait -- 3 photos into one glorious portrait. It's really not easy to get the three heads roughly the right sizes. I've drawn and redrawn them several times and I think I finally have it. So, I'm letting it sit over night and hopefully it'll be fine tomorrow morning.
Once I got too frustrated to work on it, I switched over to another portrait. Another trio but this is from one photo. That is just so much easier!
And speaking of trios, here's the other one I got done the other day.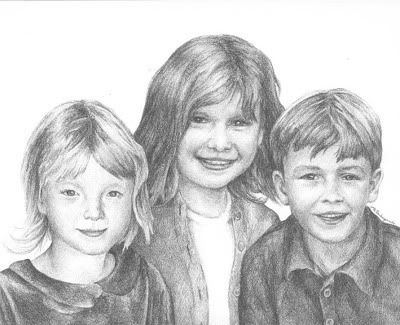 I still haven't heard back from the client on this one. She and I have a communication problem -- her computer doesn't like my emails with photos, so I'm posting this here and then will call her. (Hmm, hope it's not too late -- I forget what time zone she's in!)